Planting seeds by hand- that is, dropping one seed into every hole that you have to manually dig- is a time-consuming process. For avid gardeners and farmers, it can be the least exciting part of the harvest season. After all, who wants to plant hundreds of seeds one by one under the hot sun? The answer? No one- which isn't at all surprising.
To make the task of planting easier, there is the Hand Seed Planter. This handy device allows users to plant hundreds of seeds in an hour without having to dig holes, count out seeds, or place them in their appropriate spots. The Hand Seed Planter is a push along planter that can be filled with seeds, and each time the front mechanism turns over, seeds are deposited into the ground. The seed planter works well in all types of soil, including mud-like soil and dry earth. The planter is easy to maneuver as it has a long crossbar that you can push and a long pole-like stick that connects to the main part of the planter. This means that you don't have to bend down to get the planter to work, and results in less back pain and more energy at the end of the day.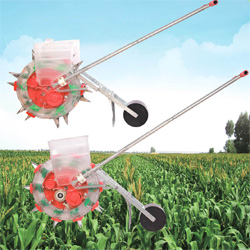 The Hand Seed Planter can plant tons of different seeds ranging from corn and green bean seeds, to peanut seeds, and everything in between. Currently, there are two versions of the Hand Seed Planter. The only differences between the two versions is that one is updated. Regardless of which model you choose to go with, you won't be disappointed with your purchase as both models get the job done quickly and easily. Both are portable and easy to move along the ground. The newer version, however, has an adjustment setting that allows users to adjust the distance between seed placement, which is handy for larger seeds.
The goal of the Hand Seed Planter is to make planting easy and save time. With its sleek design and impressive functionality, the device does just what it was meant to do. It makes the process of planting simple, and saves gardeners and farmers time- time that the could tending to other crops, or spending with their families (which is much more enjoyable than planting seeds all day).
What do you think? Is the Hand Seed Planter the next big thing in the farming industry?