Seed Planters
2 Row Corn Planter
Convenient tool for tough seeding jobs. The seed planter is easy to assemble, high-quality parts, sturdy design, available for different vegetable seed size. Prepare your planting ground correct and it works great! This was an excellent time saver, easily fixed by taping every other hole.
Model Number;
HSPV01
Operation difficulty: 
Very Easy
Important Features 1: 
Portable, Sturdy Product, Seeding rapidly
Seed Planter Description
It is sturdy and functional, unlike the traditional model made primarily of plastic and inadequate for use in heavy clay soil. The seed planter is constructed of galvanized steel and is manufactured in China. You have had the opportunity to use the vegetable seed planter to plant corn, soybean, green bean, peanut as well as several smaller seeds such as carrots, dill. The Seeder handled the grass green clay very well.
Simplicity and sturdiness of the machine mean it will work for several years. It came with three different plates for different size seeds and all of them fit your basic needs. The seeder was very sturdy and easy to assemble. It truly is a piece of equipment that can be passed down to your children or grandchildren one day. The seed plates are also a simple install. If you plan on seeding a larger garden plot quickly and more precisely, then this is a product worth investing in.
Had everything ready for planting and with a front moving in!
An impressive short amount of working time!
The multi-line spacing setting of the seed planter machine.
You could choose the unique, two or three rows, loosen the spacing locking nut, move the seeding bucket to the set position. It's fully DIY planting tools,
Worth every penny!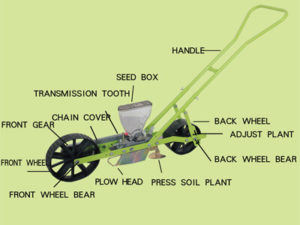 How to install the seed planter?
1. Select the properly seed wheel, put it in the middle of seeding bucket. Tighten the screw, then insert into the transmission shaft. Put in the gear, the bucket will be integrated into the clamping slot.
2. Adjust the height of armrest, fasten the bolt, insert the upper armrest and fix it. Then the installation is finished.
Seed Planters Specifications Sheet
| Body Material: | ABS, PC |
| --- | --- |
| Handle, Pole Material: | Galvanized Steel |
| Nozzle Material (7pcs): | Galvanized Steel |
| Seed Storage Box Material: | Transparent PC |
| Seed Storage Box Capacity: | 3.0KGS Seeds |
| Seeding Depth: | 3.5-5.0cm |
| Seeding Distance | 8.0-24.0cm |
| Applicable Seed: | Corn, Soybean, Peanut, Carrot, Vegetable ect. |
| G.W/N.W: | 7.5/7.0 KGS |
| Packing Size | 91x19x30cm |
| 20GP/40HQ: | 535/1310PCS |
| MOQ | 100PCS |