Now the poor planting methods are be eliminated, do you want to try the new planting
which is a wonderful way to improve your productivity, while economising your seed
And fertiliser use? The agricultural equipment that we manufacture will cut your work in
the fields down by order of magnitude, and they won't cost you anything to operate.
How to operate the farm equipment?
The manual seed planter with two plastic storage, one is loaded seeds, another charged fertiliser.
When you walked forward and pushed the garden seed planter, those seeds and fertiliser will be
both come out from the metal tips. The customer could adjust the metal tips quantity to choice
sowing space. It's effortless and useful hand seed planter and garden seed planter.
Anyway, with 6pcs seed cylinders included inside. More seeds variety chosen by yourself.
Like Corn, Soybean, Green bean, Peanut, Carrot and other vegetable, fruit seeds.
What's the minimum order quantity of the corn planter for sale?
Usually, the minimum order quantity is 100pcs. FOB, CFR or other trade terms are welcomed.
We hope that take more convenient Hand Held Seed Planter for our every customer!
Where to buy hand seed planter?
We're a professional farm equipment supplier and manufacturer, offering a effective planting solution and implement.
A range of color choice based on quantity. Have interested in our products, please kindly contact us. Many thanks!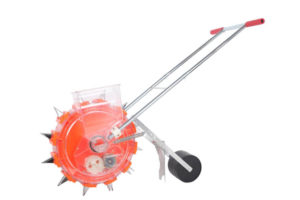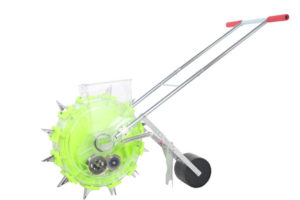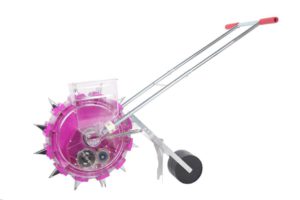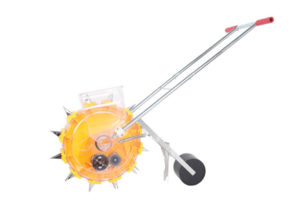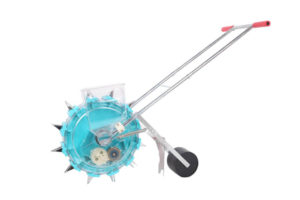 Transparent plastic body, Portable, Environmental, Seeding rapidly.  Suitable for  Corn, Soybean, Peanut, Cotton and other Vegetable seeds planting.
Quality is worth, Lower price, Saving your valuable times, Seeding and Fertilize works almost simultaneously. Applicable to most kinds of land. It's your good planting coworker!
The seed planter is easy to assemble, prepare your planting ground correct and it works great! This was an excellent time saver, easily fixed by taping every other hole!